Viral Industries is a renowned butterfly valve Gearbox manufacturer, supplier & exporter in the USA, Europe, Canada, and Gulf. An industry quickly gaining popularity and recognition is manufacturing butterfly valve gearboxes. These gearboxes are designed with butterfly valves, which control the flow of liquids or gases through a pipe or valve. The butterfly valve has a disc-shaped element attached to a shaft connected to a gearbox. The disc can rotate to open or close the valve based on the gearbox's rotation direction. Butterfly valve gearboxes are reliable, simple, durable, and commonly used in manual and automated systems. They are increasingly popular in industries such as oil and gas, water treatment, and chemical processing, where precise fluid flow control is critical.
A butterfly valve Gearbox manufacturer - Viral industries is a company that specializes in producing butterfly valve gearboxes. We ensure high quality and reliable performance for our customers. Furthermore, our ball valve gearboxes can deliver torque ranging between 800 Nm - 500000 Nm (590 lbf-ft - 3,68,800 lbf-ft).
Note: Our manufacturing unit is only in India, but we export butterfly valve Gearboxes to the USA, Europe, Canada, and Gulf.
Butterfly Valve Gearbox (VW Models for Manual or Hand-Wheel Operation)
Viral Ind.
Model No.
Output torque capacity
Ratio
M A
(±10%)
Hand-wheel Diameter
Hand-wheel Effort
Nm.
lbf-ft
mm
inch
lbs
kilogram
VW-07
800
590
40
14
250
10
102.8
46.6
VW-10
1,100
811
42
15
400
16
82.5
37.4
VW-15
1,800
1,327
42
16
400
16
126.5
57.4
VW-20
2,400
1,770
52
20
500
20
108.0
49.0
VW-30
3,700
2,729
52
20
600
24
138.7
62.9
VW-40
4,500
3,320
55
21
600
24
160.7
72.9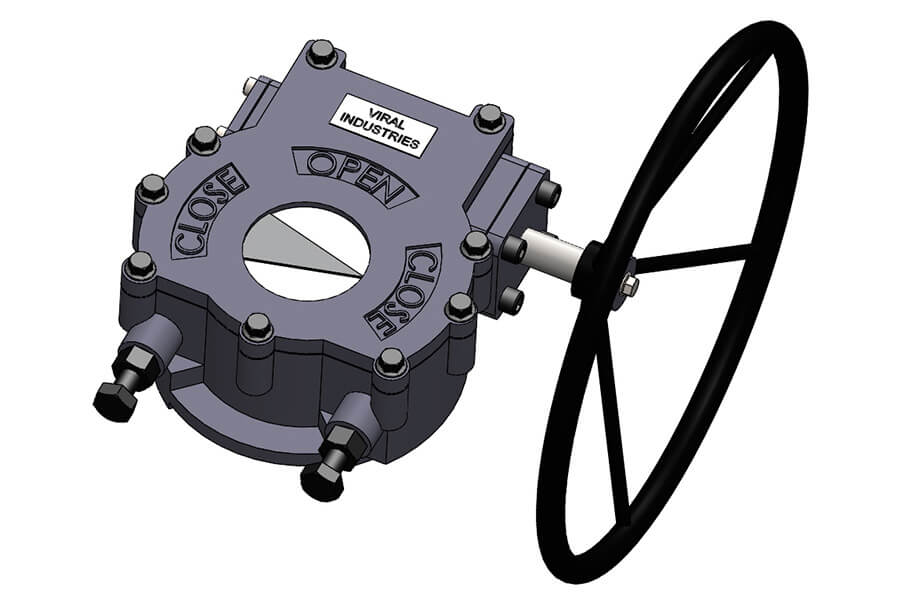 Butterfly Valve Gearbox (VWE Models for Actuator Operation)
Viral Ind.
Model No.
Output torque capacity
Ratio
M A
(±10%)
Input torque capacity
Mounting Flange at Actuator Side (ISO 5211)
Nm.
lbf-ft
Nm.
lbf-ft
VWE-07
800
590
40
14
57
42
F10, F14
VWE-10
1,100
811
42
15
73
54
F10, F14
VWE-15
1,800
1,327
42
16
112
83
F10, F14
VWE-20
2,400
1,770
52
20
120
88.5
F10, F14
VWE-30
3,700
2,729
52
20
185
137
F10, F14
VWE-40
4,500
3,320
55
21
214
158
F10, F14, F16
Butterfly Valve Gearbox (VWSGA Models for Manual or Hand-Wheel Operation)
Viral Ind.
Model No.
Output torque capacity
Ratio
M A
(±10%)
Hand-wheel Diameter
Hand-wheel Effort
Nm.
lbf-ft
mm
inch
lbs
kilogram
VWSGA-40
4,500
3,320
165
54
600
24
62.4
28.3
VWSGA-60
6,000
4,425
194
62
600
24
72.6
32.9
VWSGA-80
8,000
5,900
220
70
600
24
85.7
38.9
VWSGA-100
10,000
7,375
300
95
600
24
78.9
35.8
VWSGA-150
15,000
11,063
449
143
700
28
67.4
30.6
VWSGA-250
25,000
18,440
605
190
700
28
84.6
38.4
VWSGA-350
35,000
25,815
992
320
700
28
70.3
31.9
VWSGA-500
50,000
36,878
1039
340
700
28
94.5
42.9
VWSGA-750
75,000
55,317
1425
461
750
30
97.6
44.3
VWSGA-1000
1,00,000
73,756
1768
569
1000
40
79.1
35.9
VWSGA-1500
1,50,000
1,10,635
2109
655
1000
40
106.3
48.2
VWSGA-2000
2,00,000
1,47,512
2381
762
1000
40
118.1
53.6
VWSGA-2500
2,50,000
1,84,390
2510
800
1000
40
140.6
63.8
VWSGA-3750
3,75,000
2,76,585
3332
1051
1000
40
160.5
72.8
VWSGA-5000
5,00,000
3,68,800
3808
1208
1000
40
186.2
84.5
Butterfly Valve Gearbox with Spur Gearbox (VWESGA Models for Actuator Operation)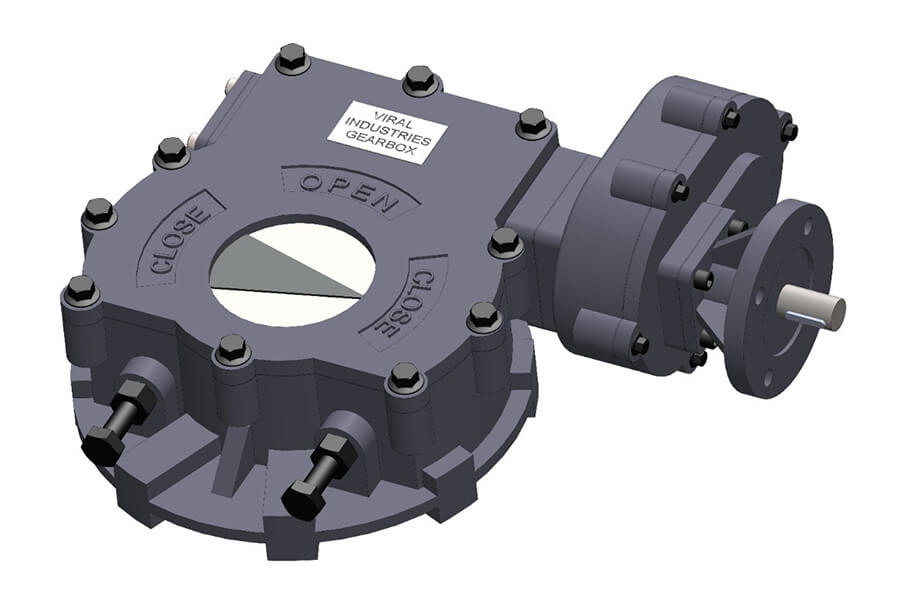 Viral Ind.
Model No.
Output torque capacity
Ratio
M A
(±10%)
Input torque capacity
Mounting Flange at Actuator Side
(ISO 5211)
Nm.
lbf-ft
Nm.
lbf-ft
VWESGA-40
4,500
3,320
165
54
83
61
F10,F14
VWESGA-60
6,000
4,425
194
62
97
71
F10, F14
VWESGA-80
8,000
5,900
220
70
114
84
F10, F14
VWESGA-100
10,000
7,375
300
95
105
78
F10,F14
VWESGA-150
15,000
11,063
449
143
105
77
F10, F14
VWESGA-250
25,000
18,440
605
190
132
97
F10, F14
VWESGA-350
35,000
25,815
992
320
109
81
F10, F14
VWESGA-500
50,000
36,878
1039
340
147
108.5
F10, F14
VWESGA-750
75,000
55,317
1425
461
163
120
F10, F14
VWESGA-1000
100,000
73,756
1768
569
176
130
F10,F14, F16
VWESGA-1500
1,50,000
1,10,635
2109
655
236
174
F10, F14, F16
VWESGA-2000
2,00,000
1,47,512
2381
762
262.5
194
F10, F14, F16
VWESGA-2500
2,50,000
1,84,390
2510
800
312.5
230.5
F10, F14, F16
VWESGA-3750
3,75,000
2,76,585
3332
1051
357
263
F10, F14, F16
VWESGA-5000
5,00,000
3,68,800
3808
1208
414
305
F10,F14, F16
| Viral Ind. Model No. | Valve Side Mounting Flange (ISO 5211) | Max. Spindle Diameter (mm) |
| --- | --- | --- |
| VW-07 / VWE-07 | F10, F07 | 35 |
| VW-10 / VWE-10 | F12, F10 | 45 |
| VW-15 / VWE-15 | F14, F12 | 50 |
| VW-20 / VWE-20 | F16, F14, F12 | 55 |
| VW-30 / VWE-30 | F14, F16 | 60 |
| VW-40 / VWE-40 | F16, F25 | 70 |
| VWSGA-40 / VWESGA-40 | F16, F25 | 70 |
| VWSGA-60 / VWESGA-60 | F16, F25 | 80 |
| VWSGA-100 / VWESGA-100 | F16, F25, F30 | 85 |
| VWSGA-150 / VWESGA-150 | F30, F35 | 100 |
| VWSGA-250 / VWESGA-250 | F30, F35, F40 | 110 |
| VWSGA-350 / VWESGA-350 | F35, F40 | 120 |
| VWSGA-500 / VWESGA-500 | F35, F40 | 155 |
| VWSGA-750 / VWESGA-750 | F35, F40, F48 | 185 |
| VWSGA-1000 / VWESGA-1000 | F40, F48 | 185 |
| VWSGA-1500 / VWESGA-1500 | F48, F60 | 230 |
| VWSGA-2000 / VWESGA-2000 | F48, F60 | 270 |
| VWSGA-2500 / VWESGA-2500 | F48, F60 | 300 |
| VWSGA-3750 / VWESGA-3750 | F48, F60 | 300 |
| VWSGA-5000 / VWESGA-5000 | F48, F60 | 350 |
Features:
Clockwise rotation of input will give clockwise rotation of output.
Self-Locking gearbox.
Bearings supported assembly.
Suitable for Actuator operation.
Grease Lubricant Gearbox.
Higher ratio options to reduce effort.
Locking Arrangement.
Available for marine application.
Available for horizontal hand-wheel orientation
Enclosure:
Temperature Limit:
Normal application -20˚C To 120˚C
High temperature application up to 150˚C
Low temperature application up to -50˚C
Material Options for Worm-Wheel:
Bore Options for Worm-Wheel Quadrant:
Round Shape with multiple key-way
Square Shape
Hexagon Shape